Besides the deposit and monthly mortgage repayments, there are other fees to consider when buying a house. Things like pest and building inspections, borrowing costs, insurance and legal fees all add up.
The average Australian may pay more than $6,000 in unexpected upfront costs on average, according to research from Finder.
When you're on a budget, every dollar counts. Let's see what costs you will need to factor in when you buy a house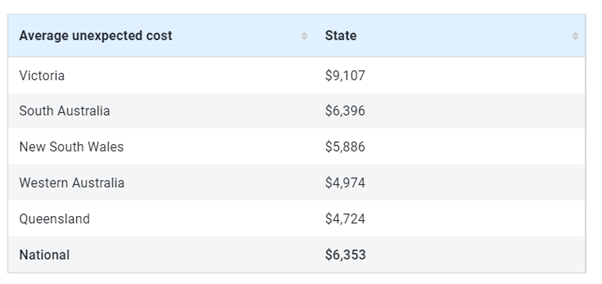 Stamp duty
What is it? Stamp duty is a one-off state government tax that's based on the purchase price of the property.
How much? Varies from state to state, and changes frequently, but it can be well over $10,000. If you are a first homebuyer, you may be exempt from paying stamp duty or entitled to a rebate or concession. Check out the First Home Owner Grants.
How we can help: We'll calculate the approximate cost of stamp duty based on your location and property price, and we'll check to see if you qualify for any government incentive schemes.
Borrowing costs
What is it? Lenders may charge fees to establish a new mortgage and to conduct a property valuation
How much? These differ between lenders and loans, but you should factor in several hundreds of dollars. (Between $200-$700, according to Finder.)
How we can help: With access to multiple lenders, we'll compare mortgage rates and fees to find the most suitable product for your needs. We'll help you understand the costs associated with your mortgage, so you can factor these into your budget.
Pest and building inspections
What is it? Before buying any property, you should get a building and pest inspection to assess for structural, electrical or pest problems.
How much? Around $400.
Why do you need it? Gain a better understanding of how much it may cost you for repairs, or if you should avoid this property altogether. We encourage you to get an inspection to avoid nightmares down the road.
Conveyancing
What is it? The legal transfer of property ownership into your name, and registering the property at the Land Titles Office, done by a solicitor or conveyancer.
How much? About $1,000 or more. The fee will vary depending on the complexity of the transaction.
Insurance
What is it? As a stipulation of your mortgage, you'll need proof of building insurance. This is a recurring cost that you'll be responsible for as a homeowner.
How much? Varies depending on the provider and property. Shop around for the best price, or bundle contents and auto insurance to save on the total.
How we can help: We partner with some of Australia's largest Insurers who can help you find the right product for your needs.
Buying a new house is an exciting milestone, and we're here to help you understand these upfront costs, so you're not caught off guard. Give us a call to help you budget, discuss mortgage pre-approval and prepare you for your next property purchase.
Whatever your circumstances or situation, we'd be happy to help you set up the most suitable plan to achieve your financial and property-buying goals. Get in touch with us today!
Surround yourself with a team of professionals who can provide you with ongoing support and expertise in securing your financial future.
The Addisons Team are here to help!
This article provides general information only and has been prepared without taking into account your objectives, financial situation or needs. We recommend that you consider whether it is appropriate for your circumstances and your full financial situation will need to be reviewed prior to acceptance of any offer or product. It does not constitute legal, tax or financial advice and you should always seek professional advice in relation to your individual circumstances. All loans are subject to lenders terms and conditions – fees, charges and eligibility criteria apply